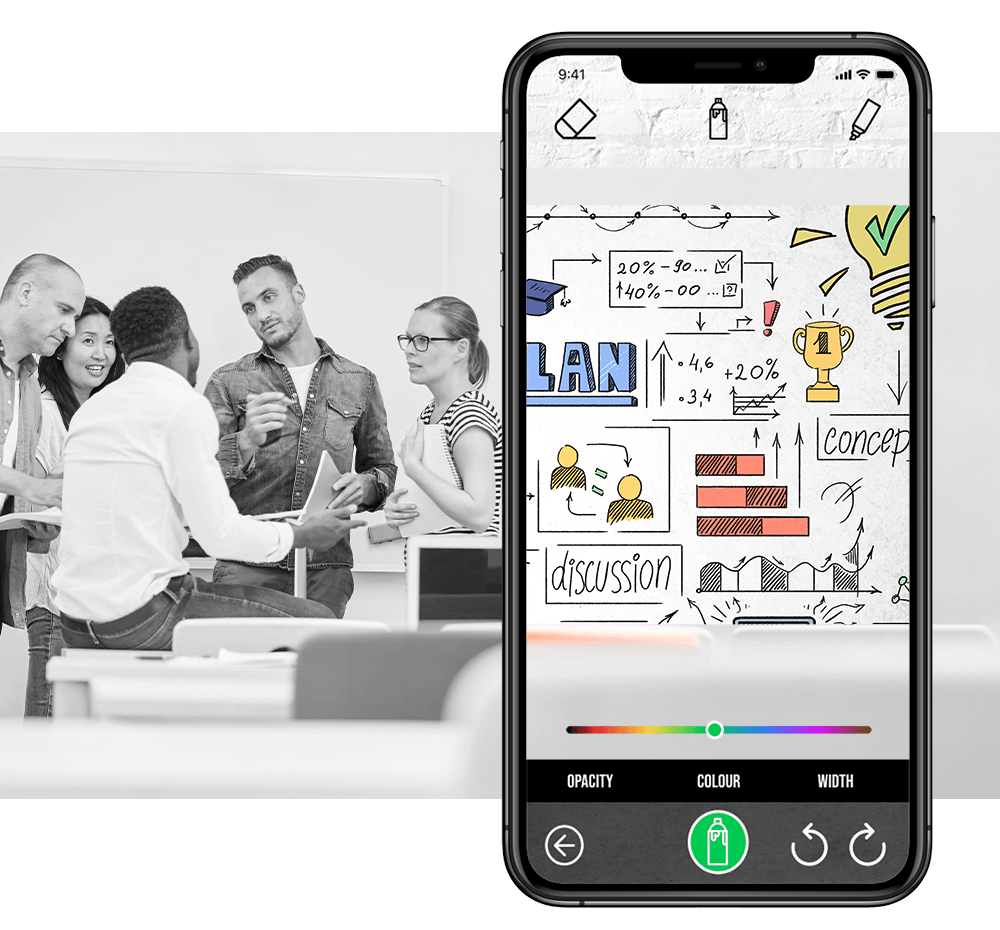 What's whizwall 
With the whizwall app you can draw, type and create on large augmented reality walls, turning your mobile into an air mouse. Move your mobile through the air like a spray can, or simply use your finger on the screen. You can also place coloured sticky notes with typed text and emojis onto whizwalls.
It's easy to create your own whizwalls as well as invite others to join in and share the same wall, so you can get creative, collaborate and have fun together, wherever you are.
Workshop wall
Workshop wall makes collaborative workshops more interactive and engaging, providing an equivalent user experience for in-person and online attendees. In addition to enabling attendees to visually collaborate together from wherever they are attending, workshop wall provides a fun and engaging experience for icebreaker and energiser activities during the workshop.
Each attendee is allocated their own individual space in the virtual wall, displayed as a brick on a large wall.
There's no limit on the number of bricks which can be created, and the most recently updated 50 bricks can be displayed live on screens at the workshop, as well as shared online.
TRY IT FOR YOURSELF
Download the app and then just scan or click this QR code on your mobile to join the wall below and create your own brick. You can also click individual bricks on the wall to zoom in.
Why use whizwall for your workshops
Flexible
Workshops are usually more effective away from the workplace. Hold at any location with attendees joining from anywhere.
Cost saving
Removes the need for expensive physical equipment such as interactive digital screens and smartboards.
Collaborative
To avoid the pitfalls of groupthink, sticky notes can be placed by anyone, ensuring all ideas are considered equally.
Structured
Facilitators can create whizwalls using standard workshop templates such as business model canvas.
Time saving
Capturing outputs of workshops is time consuming – whizwalls can be exported to PDF.
Engaging
Use for fun icebreaker and energisers,  providing agenda breaks to keep attendees engaged.
contact us to make your workshops whizzy !