Augmented reality
DRAW ~ PAINT ~ CREATE


ON SHARED VIRTUAL WALLS
What's whizwall ?
With the whizwall app you can draw, paint and create on large virtual walls, simply by moving your mobile through the air like a spray can – whizwall is simple to use and designed for all ages and artistic abilities.
It's easy to create your own whizwalls as well as invite others to join in and share the same wall, so you can be creative, collaborate and have fun together wherever you are.
How will you use whizwall ?
It's up to you how you use whizwall – on your own or with a group, together in the same room or remotely from anywhere.
Here's a few whiz ideas to inspire you
Create Graffiti Art
Create walls by yourself or with others – indoors, outdoors, wherever you like.
More Effective Meetings
Run more effective online workshops and meetings, actively engaging all attendees.
Brainstorm Ideas
Jump on a whizwall to brainstorm ideas visually, together in the same room or online.
Team Collaboration
Create a team whizwall to openly share ideas, suggestions and comments at any time.
Bringing People Together
Bring groups together in-person and remotely, with a company, school or club whizwall.
Just For Fun
Or simply just enjoy doodling, sketching, colouring and playing drawing games, on your own or with friends.
Whatever you use whizwall for, we're sure you'll find it fun & useful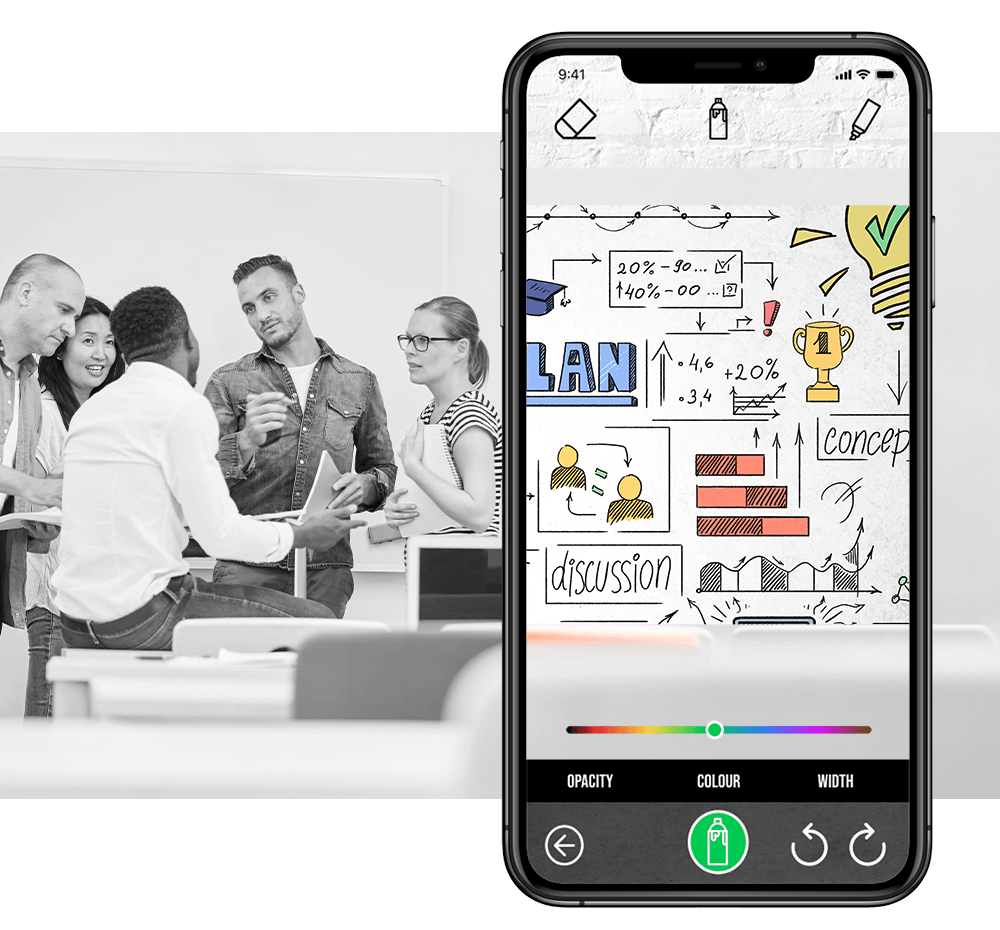 Flexible
Workshops are usually more effective away from the workplace. With whizwall, workshops can be held at any location and joined remotely from anywhere.
Cost saving
Removes the need for physical equipment such as interactive digital screens and smartboards, which are expensive and only practical for a small number of attendees.
Customisable
Facilitators can create whizwalls using standard workshop templates such as business model canvas, strategy and ideation, as well as upload their own templates.
Interactive
Sticky notes can be placed anywhere on whizwalls and moved around to reorganise. Attendees can select their favourite notes and prioritise according to votes.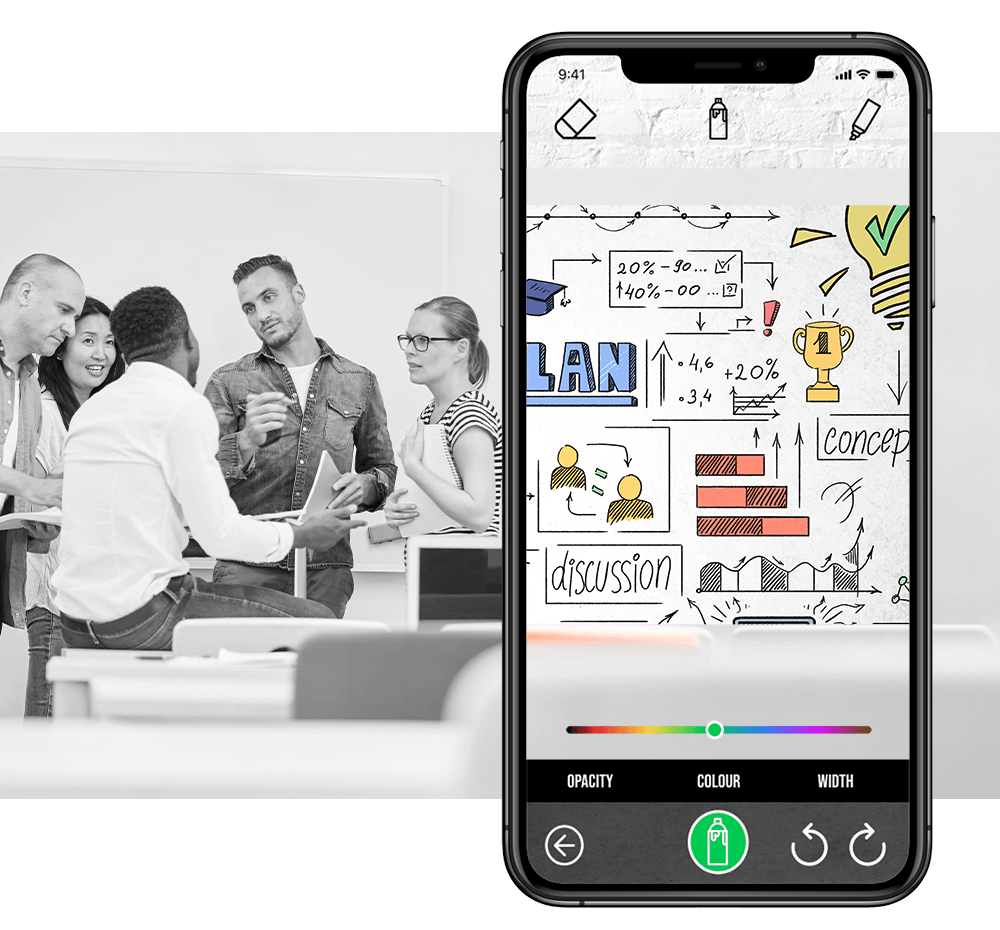 Enhance your workshops
& meetings today  
Collaborative
To avoid the pitfalls of groupthink, ideas on sticky notes can be placed as individuals, teams or anonymised, ensuring all ideas are considered equally, without bias.
Fun
Whizwall can be used for fun icebreaker activities, quizzes and active games, which are key to provide agenda breaks and keep workshops energised.
Sustainable
Traditional workshops typically consume an inordinate amount of paper, including sticky notes and flipcharts, which ultimately will be thrown away.
Secure
Paper notes and whiteboards can pose a security risk. When workshops are held over multiple days, potentially sensitive information is left overnight for others to see.
Time Saving
Capturing outputs of workshops is difficult and time consuming. Saved whizwalls can be accessed anytime via the app and also exported to common file formats.
whizwall Pro is a subscription service – contact us today for more info on how whizwall can enhance your workshops and meetings